Friday, January 28, 2022
Lights up a neon sign in support of local healthcare workers
By Leslie Gartrell
COLD WATER – More than 50 emergency vehicles filled with first responders from across the region turned on their headlights Thursday night to show their support for healthcare workers.
This is the second year of the event aimed at boosting the morale of workers on the front lines of the COVID-19 pandemic.
First responders in cruisers, ambulances and police and sheriff fire trucks flashed their lights in a parade that started at the football field and then made its way to the community hospital in the Mercer County and the Village of Briarwood.
Photo by Paige Sutter/The Daily Standard
The vehicles circled the hospital and stopped there for about 30 minutes while staff looked out the windows to see the illumination below. A huge banner with the phrase "We're still in this together" hung from the ladder of the Southwest Mercer fire truck.
Zach Piper organizer Celina said his wife worked at the hospital and he was close to several county health workers. Piper, 33, is treasurer and safety officer for Mercer County Emergency Response Volunteers (MCERV). He said he has seen the toll the pandemic continues to take on healthcare workers.
Piper and co-organizer Monte Diegel, 911 administrator at the Mercer County Sheriff's Office, decided it was time for another event to support workers during the pandemic.
"Zach and I have been working (on) this thing together and it will be a very big tribute from Mercer County to our healthcare workers," Diegel said in a text ahead of the event.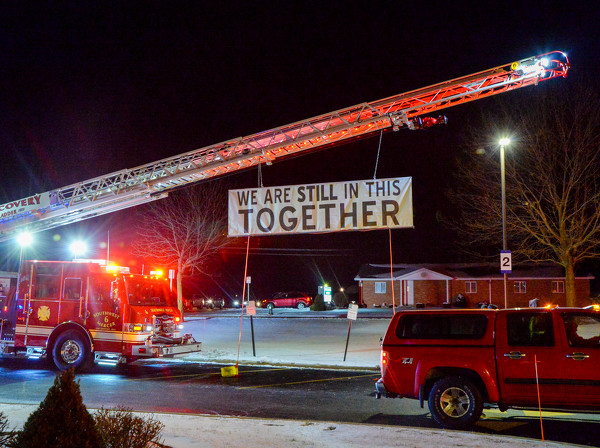 Photo by Paige Sutter/The Daily Standard
The community hospital has remained as busy as ever due to an increase in COVID-19, flu and other medical issues, Piper said.
Mercer Health chief nursing officer and vice president of patient care services Susan Miller said Wednesday that hospitalizations had reached their highest level since the pandemic began two years ago. The hospital reached peak capacity on Tuesday, meaning hospital staff had to expand emergency room capacity to other patient care spaces that would not be used for such care in normal circumstances, she said. Long-term care facilities across the state hit by staffing shortages and high patient volumes are also having issues admitting patients, Miller had said.
One of the biggest changes to this year's Light Event is the donation of over 510 meals to all Mercer Health staff at various locations.
Meals of sub sandwiches, fries and cookies were given to staff on all shifts, Piper said. MCERV also delivered meals to employees at Mercer Health sites in Celina, Fort Recovery, New Bremen, St. Henry and a few independent offices, he said.
Piper said the meals were made possible through donations from the Mercer County Sheriff's Office, EMS branches, area fire departments, Hague Towing and others.
"I feel like last year was totally new and special, and I think this year is just as special," Piper said. "I have a feeling it's going to be just as good."
As of Wednesday, Mercer County had 7,534 cumulative cases and 121 deaths from COVID-19 since the pandemic began nearly two years ago.