Thursday, March 10, 2022
AAA: Ohioans won't change trips
By William Kincaid
Photo by Paige Sutter/The Daily Standard
CELINA — Local motorists are feeling the pinch at the pump with a gallon of regular unleaded gasoline going for $3.98 to $4.19 at area gas stations Wednesday.
"I think it's terrible. It should never be this high," Elise Rice said as she fueled up her Honda Pilot at Shell on Grand Lake Avenue in Celina.
At $4.04 a gallon after a 5-cent reward discount, it would cost Rice just over $80 to fill his 20-gallon tank.
Rising costs
On Wednesday, the national average gasoline price was $4.25, breaking the record of $4.11 set in 2008, said Bill Purpura, director of corporate communications at AAA. The average price in Ohio was slightly lower at $4.07 per gallon.
By comparison, last year around this time, the average gasoline price was $2.76 nationally and $2.70 in Ohio, Purpura said.
"It's an amazing jump," Purpura said Wednesday.
Purpura attributes the extraordinary increase in fuel costs to a perfect storm of factors that will likely continue.
"Drivers are trapped right now," he said. "Domestic supply is down. We've come out of energy independence. Of course there's war in Ukraine and it's crippling supply and on top of that President Biden (Tuesday) said that the The United States would no longer buy oil from Russia because of this conflict."
The escalating demand is further aggravating the situation, Purpura said.
"We are out of the pandemic," he said. "More people are going back to work. Soon people will be leaving for spring break and summer trips and all that, so this is the time of year when it would normally start to go up anyway – but not at those levels, of course."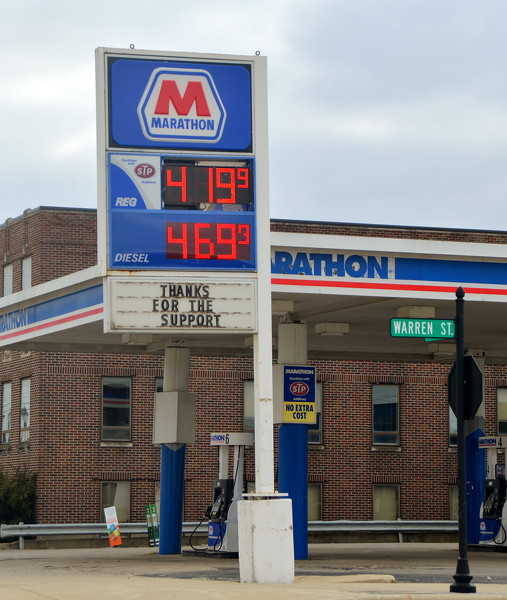 Photo by Paige Sutter/The Daily Standard
High prices to stay
Purpura said it expects no relief from high gas prices in the foreseeable future.
"I don't think those prices are going to come down anytime soon. However, I do know that the administration is working with other oil suppliers outside of Russia to fill the void," he said. "I think the long-term solution is to shore up domestic production, at least for America's needs."
Patrick De Haan, head of oil analysis at GasBuddy, a gas price tracking service, offered a similar assessment in a press release on Monday.
De Haan said massive coast-to-coast spikes in gasoline and diesel prices as oil prices hit their highest levels since 2008
"Forget the $4 per gallon mark, the nation will soon be setting new all-time highs and we could be nearing a national average of $4.50 per gallon. California could be heading towards $5.50 per gallon with more stations charging $6 and up," De Haan said in the statement.
"We've never been in this situation before with this level of uncertainty," De Haan said. "As we lose a major global producer under the weight of deserving bipartisan sanctions for invading a sovereign country, the cost is high."
Effects beyond the pump
The effect of high gasoline prices goes far beyond what people pay at the pump, Purpura said.
"It's going to impact everything we buy, whether it's groceries, new clothes, a hammer at the hardware store, because there's a cost to get the goods to market. ", he said, adding that the increase in transport costs will be passed on to the general public. .
Energy prices are contributing to the worst inflation Americans have seen in 40 years, far outpacing higher wages, according to the Associated Press.
Consumer prices jumped 7.5% in January from a year earlier, and analysts are predicting a 7.9% increase when the government releases February figures later this week.
Back at the pump in Celina, Rice addressed the personal impact of high gas prices.
"Luckily I work from home so I don't have to drive a lot and my kids are home schooled," she said.
However, to balance the budget, Rice said her family would likely eat more meals at home until things calm down.
"But from what I've heard, it's not going to get better. It's only going to get worse," she said.
Celina's Ryan Brophy, who was filling up his Jeep Liberty, lamented the high gas prices on Wednesday.
"It's wrong. It's wrong what they're doing to the American people. It's basically like a second tax on the American people," he said.
Less than two years ago, gasoline prices were below $2 a gallon. Now they're back to where they were during President Barack Obama's years, Brophy said.
Brophy said the price hike won't affect his driving habits much because he can afford the increase. But he knows it will hurt others.
"I know a lot of people, they're going to have to start really going through their budget to decide how much food they can afford versus how much fuel they have," he said.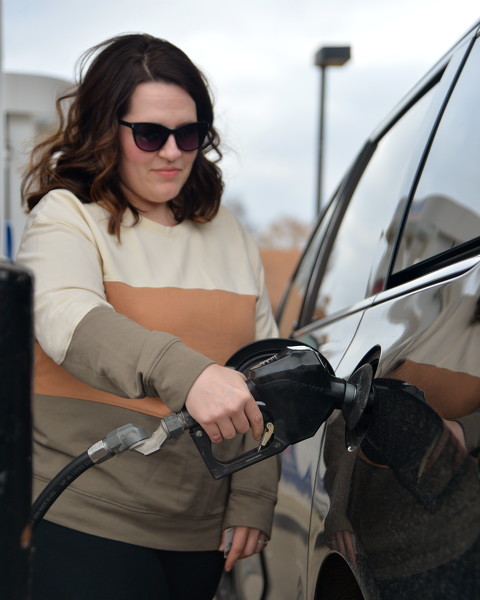 Photo by Paige Sutter/The Daily Standard
A glimmer of hope
However, even with the negative consequences of rising gasoline prices, Purpura predicts that 2022 will be a great year for travel – unless something else happens.
"There's just too much pent-up demand and people won't let these gas prices get in the way of their long-awaited trips," he said.
Many have already booked cruises, made airline reservations or rented vacation homes.
"They're not going to cancel at this point, that's for sure," he said.
Purpura's prediction, if it were to come to fruition, would be good news for the Grand Lake region.
"I think trips to Ohio are going to see a lot of people," he said. "When you think of Ohio attractions like Grand Lake St. Marys, like theme parks, like Hocking Hills, like Amish country, Ohio has this rich tradition of travel."
Overall, tourism over the past five years has generated more than $351 million for the economies of Mercer and Auglaize counties, said Donna Grube, director of the Greater Grand Lake Visitors Center, at the reception. annual center awards in May 2021.
Being so close to major cities makes the area ideal for people wanting to take a weekend or day trip not too far from home, she said.